Amazon Gadgets Huge Discounted with Free Shipping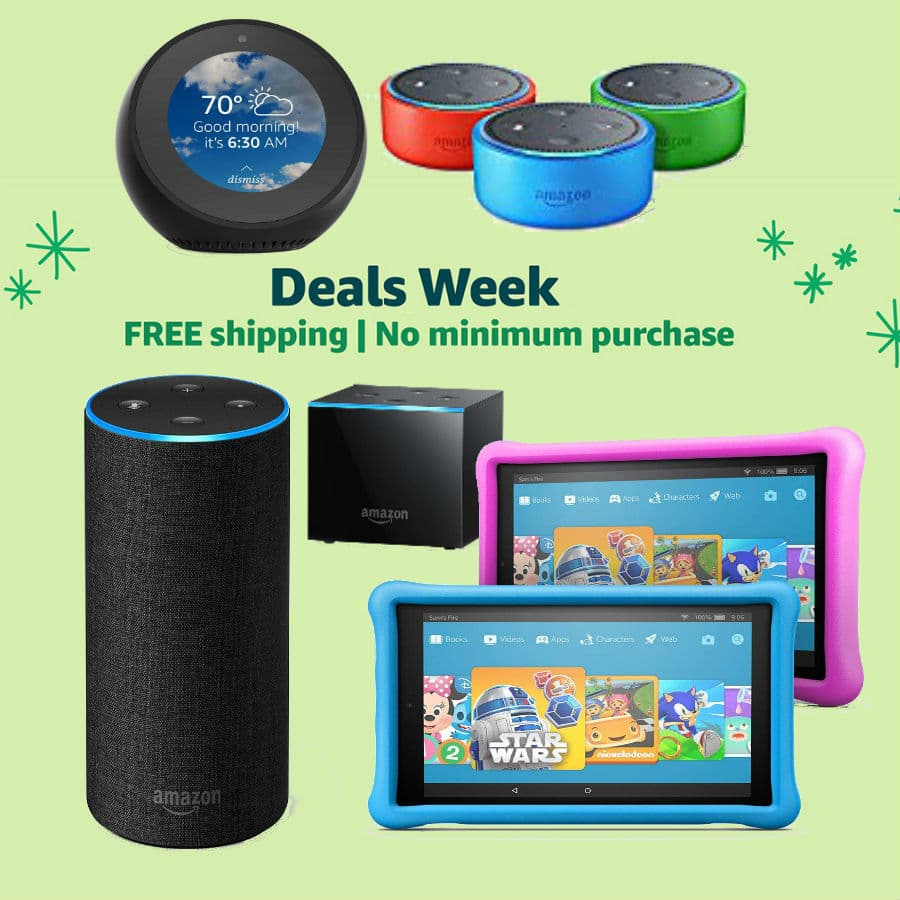 Amazon offers various discounts, combo offers and price slashes for many of their products ahead of the festive season. Amazon's stunning products like Fire Tab, Echo Dot, etc. can replace many of your devices and it is worth checking out the newly discounted devices. To compete with BestBuy and Walmart, Amazon is also offering free shipping with no minimum purchase. This is the best time to shop around if you are looking for Amazon tablets for your grandkids of fire TV to replace with your cable provider. Have look at those Amazon Gadgets.
Here are some of the best deals for Amazon Gadgets at this festive season with free shipping and no minimum requirement.
Fire HD 10 Tablet – Black, 32 GB
Amazon Fire HD 10 is a brilliant option to go for if you are looking for a great tablet under $100. This large tablet with 10.1-inch capacitive Full HD touchscreen comes with many preloaded Amazon apps, services and offers. On the hardware side, the Amazon Fire HD 10 is equipped with a 1.8GHz Quad-core processor, 2GB RAM, and Dolby Audio Stereo Speakers. This Wi-Fi enabled tablet is a great deal for video streaming, reading magazines, and to use Amazon Alexa assistant seamlessly. The 32GB variant of the Fire HD 10 Tablet is available at an offered price tag of $99.99 at Amazon.com. The app can also run Android Apps and Games and can be connected with Amazon Echo/Echo Dot/Echo Show devices to control them. You can buy this Android tablet at the cist five times lesser than the price of an Apple iPad and is more durable, claims Amazon. You can also get a battery time up to hours.
Fire HD 10 Tablet - Black, 32 GB
$149.99
Amazon Fire HD 8 Kids Edition Tablet – Blue, 32GB
Amazon releases Fire H tablets not only for adults but for Kids with restricted usage modes and parental monitoring options. The Amazon Fire HD 8 Kids Edition now hits up at Amazon.com website with a huge deal, available at just $89. The 32GB variant tablet for Kids comes with a kids protection cover, blue in color. As a device for kids, Amazon offers 2-years worry-free-warranty, which could cover all tye of damages due to children's mishandling. Amazon FreeTime Unlimited lets your child access free apps and informative/entertainment content for 1-year. Thousands of Audible books, Parental Control options, Child user account managing option, etc. are a few of the features that Amazon push along with the tablet.
Amazon Fire HD 8 Kids Edition Tablet - Blue, 32GB
$129.99
Amazon Fire HD 8 Kids Edition Tablet 2-Pack
Amazon Fire HD 8 Tablet for Kids come at $89.99 price tag for a single unit, as you read above. But, here is a better deal, if you want to gift your two children Amazon FIre HD 8 Tablets at a time. Effectively, buying two tablets at the first deal will make you spend at least $179.98 for both of them. But the new combo offer listing by Amazon itself slashes off the price to $149.98 for two pieces. Don't worry, both are not in the same color. The Kid Protection case for combo tablets are Pink and Blue, so your children can distinguish between them. The pink and leu combo is also a great deal if you have one boy child and a girl child. You can also choose Blue/Yellow combo from the page. Every other feature for the Kids Edition tablets is the same, with 1.5GB RAM, Parental Control, Amazon FreeTime Unlimited, 2-year warranty, etc.
Amazon Fire HD 8 Kids Edition Tablet 2-Pack
$259.98
Amazon Fire HD 10 Kids Edition Tablet – 32GB, Blue
Amazon Fire HD 10 Kids Edition Tablet suits your needs if you are looking for a kid's tablet with a larger screen. You can go for this upgraded version of Amazon Fire HD 8 Kids Edition if you are not so fond of 7 to 8-inch tablets. Maybe you need a bigger one when your kid grows up. At a glance, without the Kids Protection Case, the Amazon Fire HD 10 Kids Edition Tablet is the same standard Fire HD 10 Tablet device with restricted usage modes and extra security measures. This is not just a toy, but a fully-fledged tablet device with 10.1-inch Full HD display, 1.8GHz processor, 2GB RAM, and 32GB Expandable Internal Storage. The tablet also includes 1-year free FreeTime Unlimited from Amazon for unlimited kids contents including videos, apps, games, eBooks, AudioBooks, etc. This $200 Kids Edition tablet is now available on Amazon at just $149.99.
Amazon Fire HD 10 Kids Edition Tablet - 32GB, Blue
$199.99
Amazon Fire TV Stick
Amazon Fire TV STick is one of the most powerful 4K TV Show and Movies Streaming platforms available today, along with Roku and Chromecast 4K. The Fire TV Stick by Amazon comes with inbuilt storage space for app installation, move downloads and streaming of TV contents online. Even though Amazon pushes their Prime Video service through their platforms, many other services including Netflix, Hulu, Hotstr, etc. can be used with this single piece of device. Amazon Fire TV Stick helps you to convert a standard LED/LCD Television with HDMI port into a smart TV without any extra installation. The inbuilt Alexa-Assitant, other TV Controls can be triggered using the Alexa Voice Remote Controller. You can avail tons of websites, social platforms, movies, stream contents using this small device.
Fire TV Stick with 1st Gen Alexa Voice Remote, streaming media player
$49.99
Amazon Fire TV Cube
Amazon Fire TV Cube is the newest addition to the Amazon Fire TV Family by the American Internet Giant. It is a hands-free, wireless streaming platform which is completely powered by Amazon Alexa vice-assistant. The device has a stunning form factor, in a cubic shape with control lights. The inbuilt Alexa can be used as same as in the Echo series devices. So, you can simp use the device like "Alexa, turn off the bedroom light and resume the game of thrones." You can even carry the device around when you are traveling, which makes movie streaming even easier on-the-go. The inbuilt battery pack can be boosted using the QuickCharge 3.0 adapter provided alongside. The device has a built-in speaker and surrounding microphones for standalone Alexa functioning. Using an Amazon Prime membership, you can unlock thousands of moves and TV Shows on Amazon Fire TV Cube.
Amazon Fire TV Cube, hands-free with Alexa and 4K Ultra HD
$119.99
Amazon Fire TV Recast
The Era for DVR is over and the new age is all about streaming contents over the internet. Even for this streaming era, Amazon released the new-generation Over-The-Air DVR for TV Shows and Movies. You can record Movies, TV Series, Shows, or even News from any channel platform with an Amazon Fire TV, Echo Show or even Alexa-supported smartphones. Using this tiny box, you can watch and record TV Shows at a time and can store. The internal storage space of Mazon Fire TV Recast is 500GB, wor equivalent to 72 hours of TV Shows. By connecting an Alexa device (Echo device or a compatible smartphone), you can voice-search the saved contents, TV Shows, etc. The actual pricing of the Amazon Fire TV Recast OTA DVR is $229.99 and you can now grab from Amazon at just $179.99. There is no subscription and recording limit for Amazon Fire TV Recast.
Amazon Fire TV Recast, over-the-air DVR, 500 GB, 75 hours
$119.99
Ring Video Doorbell Pro with Echo Dot (3rd Gen)
This is an amazing tech bundle that can replace the standard door lock of your home. If you are making your home appliances into a smart system using Amazon Alexa ecosystem the Ring Video Doorbell Pro with Amazon Alexa Echo Dot is the best combination for you. You can replace your conventional front doorbell with Ring Video Doorbell Pro. Unlike the standard video doorbells that have manual video conferencing feature, the Ring Video doorbell is way smarter and works whenever it identifies motion. The device also allows two-way communication, Full HD video streaming from the front door, monitoring, etc. With the Amazon Alexa support, you do not even have to check the front door when someone rings the bell. You can easily hand over the job to Amazon Echo Dot which will trigger actions when the front doorbell is ringed. Save $49.99 on this purchase and avail the combo at just $249.99.
Ring Video Doorbell Pro with Echo Dot (3rd Gen) - Charcoal
$298.99
Ring Alarm – Home Security System
Amazon acquired the Home automation and Security firm Ring back in last year, This doorbell company makes many stunning products, which now Amazon sells through their stores. And, one of them is the Ring Alarm – a Home security system powered with smartphone automation and IoT. This is an 8 piece kit, which consists of a doorbell, home security system, microphones, dialer, etc. The device also allows 24/7 monitoring of your home to keep the trespassers at the bay and can be controlled using a smartphone app. The monitoring costs $10 per month and there is no contract so that you can cancel the subscription at any time. The devices include base station, 3 contact sensors, 2 motion detectors, keypad, and range extender can be fixed across the corners of the home easily.
Ring Alarm – Home Security System with optional 24/7 Professional Monitoring – No contracts – 8 piece kit
$268.98
Amazon Fire HD 8 Tablet with Show Mode Charging Dock
The bundle of this Amazon Fire HD Tablet with the new Show Mode CHarging Dock is actually a steal deal that every tablet buyers want. Amazon recently showcased its Show Mode Charging Dock which is a wireless charging station for Amazon Fire HD 8 Tablet using a special case. Amazon also provides a wireless charging case for the table. Only using the tablet case, you can place the device on the Show Mode Charging Dock. The tablet device automatically enters the Show Mode and you can experience your apps, games, Movies, or TV Shows from the Show Mode. The CHarging Dock has multiple angles for docking. The tablet device has stereo speakers, inbuilt Alexa, and more.
Fire HD 8 Tablet with Alexa, 8" HD Display, 16 GB, Black – with Special Offers + All-New Show Mode Charging Dock
$119.98
Get these great deals from Amazon at the slashed price tags before they go out of stock. These gadgets from the Amazon can be bought at a very budget-friendly price tag and free shipping. Also, they can serve better than many other competitors at higher price tags. You can also choose these Amazon gadgets as gifts for this Christmas.