60W Portable Solar Panel Charger for Laptop, iPad & Camera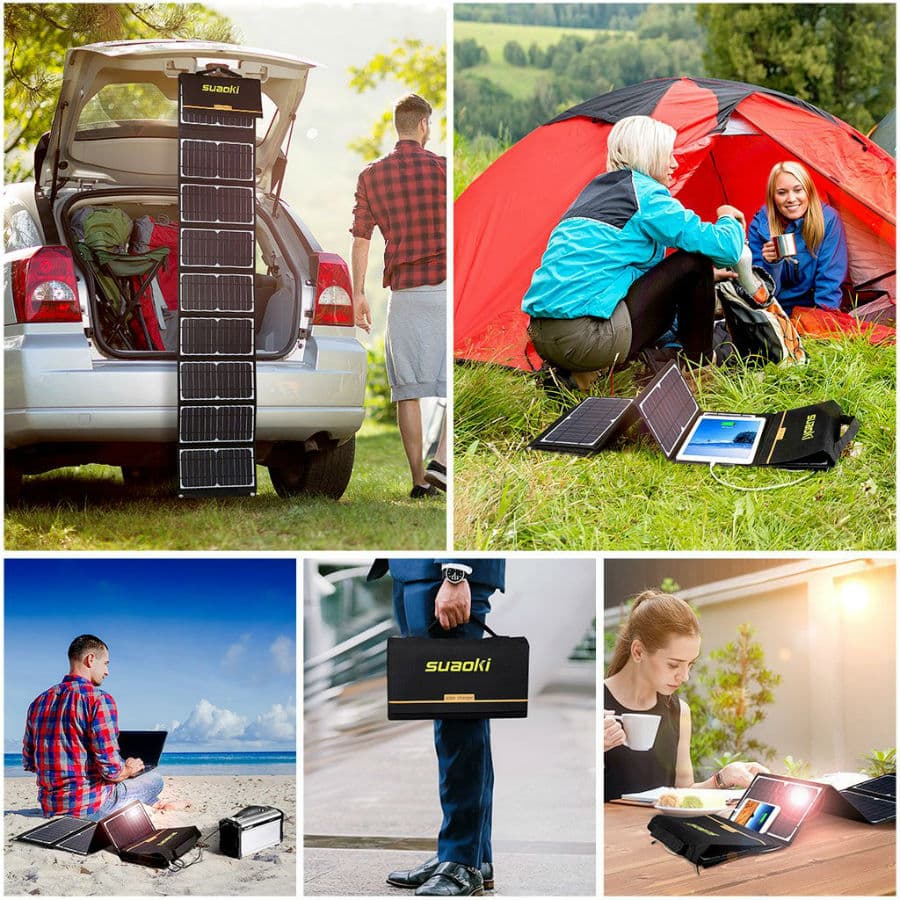 Want to go camping without worrying about phone's battery draining out? Suaoki makes it possible with a solar charger that comes with a portable solar panel. Using solar energy makes you more eco-friendly too.
The solar charge is capable of giving an output of 60 Watts which is enough to charge two devices simultaneously. The design of the power source is such that it can have a conversion efficiency of up to 20%. It is a dual output device providing both 5V and 18V DC. This helps to charge both USB and DC devices.
You no longer have to run around to find a wall outlet or carry your power bank. Simply fold and carry Suaoki solar charger and solar panel like a suitcase. Yes! You read that right! When folded it looks like a briefcase of size 11.5 x 6.3 inches. This makes it very easy to carry. 11.5 x 65.7 inches is its size when fully opened. Place it anywhere it gets sunlight and charges your device. Hang it on your campervan or tent or spread it on the beach!
It is equipped with a smart IC. Using the TIR-C technology (Target Intelligent Recognition-chip), it detects a recharge rate of each particular device and adjusts to it to deliver the maximum acceptable current. This helps your device to charge faster without causing any damage. A 10 in 1 connector also comes with this product. Almost all the laptops (except MacBooks) can be connected to this.
This product is perfect for those who want to reduce their carbon footprint. Go green in style with SUAOKI Solar Charger with Portable Solar Panel.
September 29, 2023 7:45 am
Last update was on: September 29, 2023 7:45 am