Cheese Printer the Original Prank Gift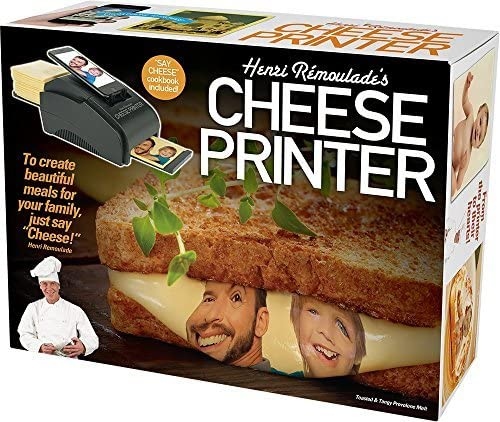 Do you want to surprise your best friend with a prank gift? Then you must place the order of the Cheese Printer here. When you first look at the product. It appears to contain bizarre products from ridiculous companies.
You can put your real present inside the joke box. Try to keep a straight face as you watch your friends & loved ones attempt to remain gracious while thanking you for the Cheese Printer. Then watch them explode with laughter when they discover their real stuff inside and realize they have been pranked.
You can even take your gift to the next level with an original gag gift box. The company prides itself on its incredible attention to detail. They thought of everything from the ridiculous fictional product itself. That has hilarious images and detailed product descriptions. This box will convince any recipient. That you gave them the most unusual gift of all time. But it's a fake present box.
In this way, you will be able to add the gift of laughter to the party. With this quirky and fun twist on the timeless tradition of a fun gag gift, share some smiles. You can gift a Cheese Printer to your boyfriend, girlfriend, mom, dad, or kids on various occasions. Whether you consider your funny gift-giving skills to be unusual or not. But wrapping any gift inside a Prank Pack adds an extra layer of fun and enjoyment that will have everyone in the room laughing.
This high-quality prank box consists of 100% recyclable cardboard. The boxes ship flat and are easy to assemble – no glue or extra steps required. At 11.25″ x 9″ x 3.25″. They are the perfect size for almost all funny gag gifts. These Cheese Printers are empty boxes. The product gets manufactured in the USA.
Gift it to your friends and family as you share a laugh while you prank them.

November 24, 2023 6:59 pm

Amazon.com
Last update was on: November 24, 2023 6:59 pm