Nordgreen Philosopher Watch Review: Stylish Design at Affordable Price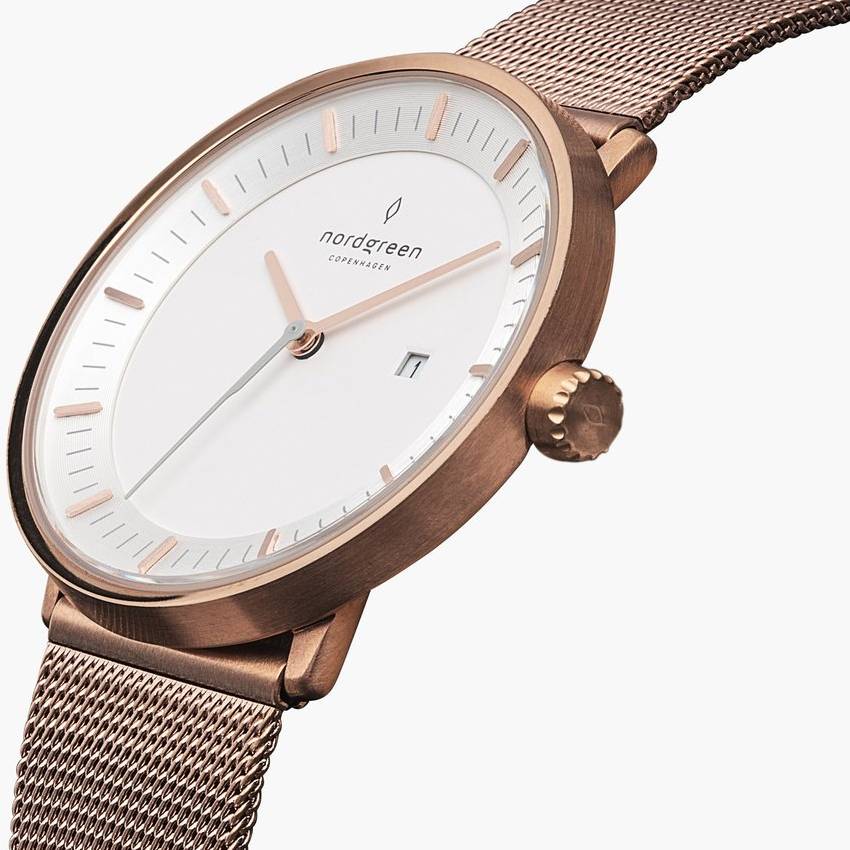 Nordgreen is a Denmark-based watch company, which was founded in 2017 by Vasilij Brandt and Pascar Sivam. The idea behind creating the watch brand was to deliver true Scandinavian design and lifestyle to everyone. Their watches are inspired by traditional Scandinavian designs and stand true to their morals.
Danish designs are all about simplicity and quality. Nordgreen strives to hold on to those values, and they have done quite well since its inception. Nordgreen watches are becoming increasingly popular for their affordability, excellence, and simple design. Their catalog is quite extensive as well. They have sold over 10,000 watches designed by Scandinavian designer Jakob Wagner.
Here is a quick review of the Nordgreen Philosopher watch. We found this model especially attractive and stylish. It blends well with any attire and can be worn on any occasion too.
Nordgreen Philosopher (Rose Gold)
Nordgreen Philosopher comes in Gold, Silver, Gun Metal, and Rose Gold colors. We chose Rose Gold, the most trending metal choices these days. You can see rose gold in engagement rings, wedding bands, and even in electronic gadgets. As for the dial color, all the Nordgreen Philosopher models sport a white dial. However, the color of the dial ring markings and watch hands will change as per the color of the bezel.
The minute and hour hands of the watch sport a baton design, which complement its minimalistic look. However, the second hand comes in a slightly darker color (grey in Nordgreen Philosopher Rose Gold). It features an asymmetric design, which makes it look like the second hand is slicing through time. There is a small date window in the watch as well, neatly located near the 03:00 o'clock mark.
The overall design of the Nordgreen Philosopher Rose Gold watch is very elegant. It is created to honor the Scandinavian principles, inspiring us to think differently and work for a better future. The Nordgreen logo and Copenhagen branding make the watch face more graceful.
Versatile Design
Nordgreen Philosopher comes in 40mm and 36mm case width. We prefer the 40mm type because it sits perfectly on the wrist of the wearer. You can see that the conical-shaped case features a wider base than the watch face. This is to create a crisp two-piece dial and draw all the focus to the center of the watch. The case is a bit elevated too, while the lugs are subtly tugged below to complete the design.
You can get many types of straps for Nordgreen Philosopher as well. They have options like mesh, leather, vegan leather, and nylon. However, Nordgreen Philosopher Rose Gold looks exceptionally impressive in rose gold mesh strap. There is a small quick-release pinhead in the lugs, which allows you to use any of the interchangeable straps easily. This makes it very easy to customize your Philosopher watch as per your styling preferences.
The mesh strap is well designed and features tiny gaps to give it a fuller look. It also ensures that your arm hair does not get stuck in the watch strap. As for the buckle, it looks more square-like rather than having the traditional rectangular shape. The crown, on the other hand, features a dented edge and looks stunning with the brand's logo. It sticks out quite nicely from the dial to make it more noticeable.
Technical Specifications
Nordgreen Philosopher has a Japanese quartz movement. This makes it feel like the hand movement is slicing time on its way ahead. This falls ideally with the concept of designer Jakob Wagner, who wanted to create a classic timepiece. The Japanese quartz movement also works well as per the simplistic design of the watch. A complex movement would have seemed to overpower the design.
The Nordgreen Philosopher has a water resistance rating of 3ATM. This means that it can resist water splashes and occasional rain. However, you cannot wear it when swimming. Overall, Nordgreen Philosopher Rose Gold is suitable for everyday wear.
Technical Specifications
| | |
| --- | --- |
| Case Thickness | 7.2mm / 7.84mm |
| Case Width | 36mm / 40mm |
| Case Material | 316L Stainless Steel |
| Case Color | Silver, Rose Gold, Gun Metal, Gold |
| Movement | Japanese Quartz |
| Strap Width | 18mm / 20mm |
| Strap Material | Mesh, Leather, Nylon, Vegan Leather |
| Strap Color | Black, Gold, Rose Gold, Brown, Dark Brown, Grey, Dove Grey, Navy Blue, Olive Green, White, Gun Metal, Silver, Pink |
| Interchangeable Straps | Yes |
| Water Resistance | Up to 3 ATM |
| Battery Life | Around 3 – 5 years |
Final Verdict
Nordgreen Philosopher Rose Gold (rose gold mesh strap) costs just around $230. This makes it one of the most alluring options for a stylish and functional accessory. Besides, the Nordgreen watch company also believes in "Giving Back". They have partnered with three NGOs, which means that a part of your purchases is donated for a social cause.
The Philosopher watch from Nordgreen embodies Scandinavian design as well as values. You cannot find many watches out there that can compete with Nordgreen Philosopher in both these regards. So if you are looking for a charming and subtle watch, go for Nordgreen Philosopher right away!