Speaking Skeleton Tricycle Prop for a Scary Ride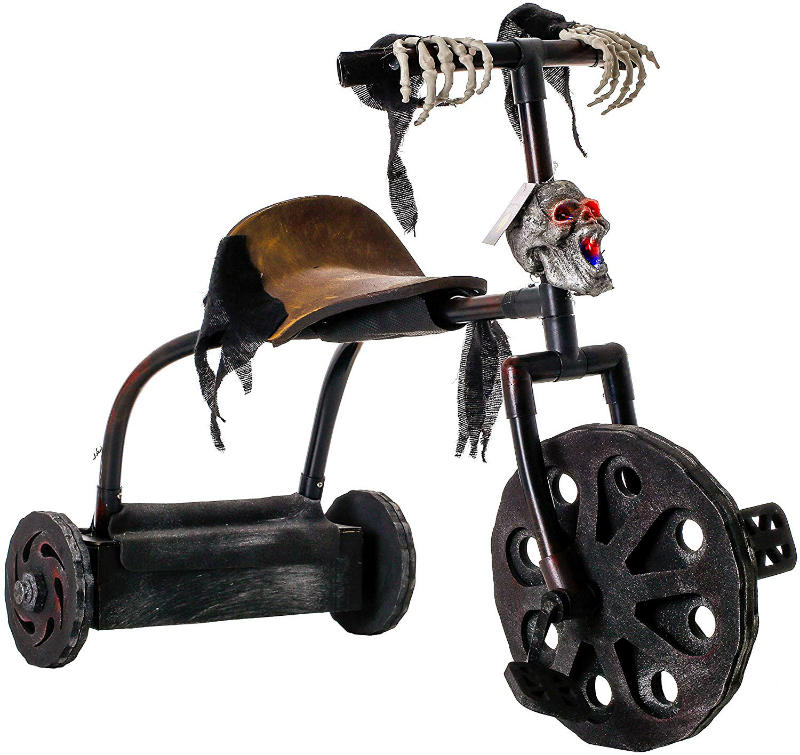 Want to make your Halloween more interesting and spooky? Get this speaking skeleton tricycle prop by Halloween Haunters. This terrifying tricycle moves all by itself. It will feel like someone has possessed this tricycle.
You don't need to give it that extra pedal. It moves forward and backward, all by itself. Not only this, but it also makes sounds and speaks. Its spooky phrases will make you feel you are in a horror movie. The moans it lets out with laughter are going to give everyone around you a scare.
This tricycle prop has a creepy, old, and beat up look. It features rusty looking plastic and foam rubber too. The speaking skeleton tricycle prop has a skull headlight too. How cool is that? A break from your regular headlights. This skeleton tricycle is a perfect fit for this Halloween season.
The skeleton headlight has LED lights. These lights flash in multiple colors. These colors range from blue, red, and purple, green, yellow to white. All those who cross the path will scare away seeing this unique prop. Want to have more fun with frightening people? Place a doll, clown, or an old witch onto the seat and let the fun begin. People will be running away from this tricycle while it will chase them making scary sounds.
Bring this speaking skeleton tricycle prop to your Halloween party. Get on fun and scary ride with this unique tricycle prop. This product's dimensions are 18″ high by 13" wide by 25" long.
Last update was on: December 1, 2023 7:09 pm