Emergency Portable Radio with 2000 mAh Power Bank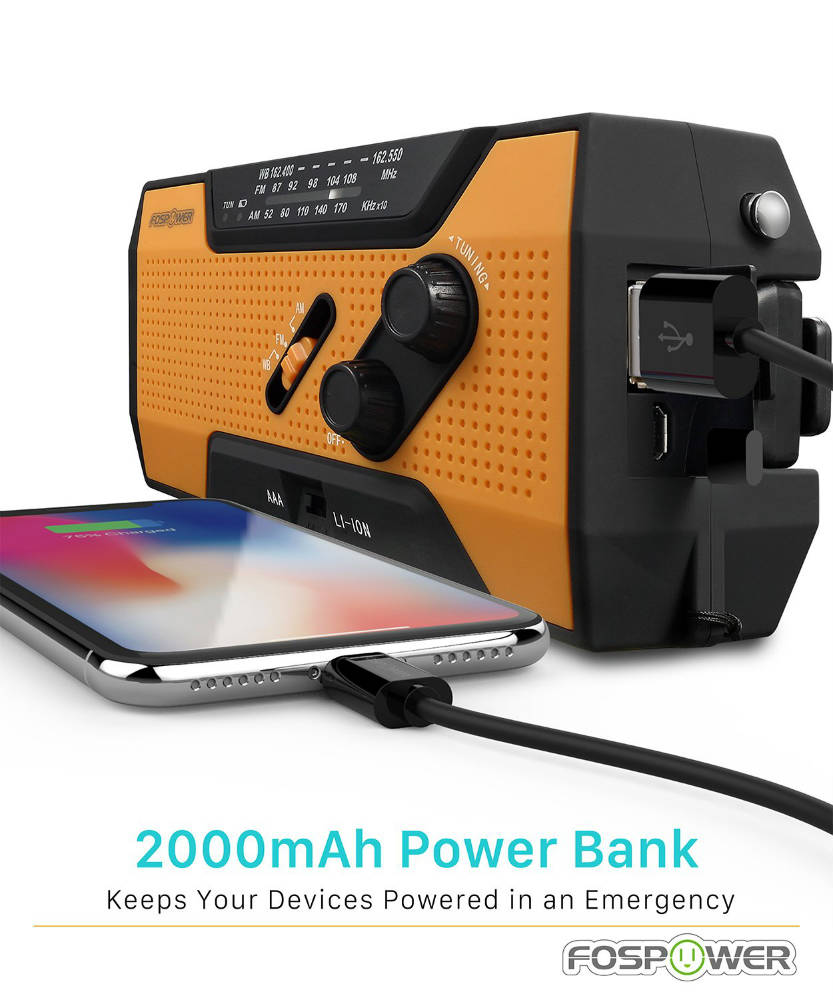 What if you could carry a radio, power bank, USB charger, and SOS alarm all in one device? Introducing FosPower emergency portable radio which comes with a 2000 mAh power bank.
This power bank will provide emergency power to any small phone or tablet. Need to recharge your radio? The emergency weather radio's 3 power sources will come to the rescue. This portable radio features a crank lever and solar panel. Both of these are capable of regenerating enough power. This will help to keep the radio, lights, and SOS alarm ready when you need it the most.
Besides, this emergency portable radio has AAA batteries. These batteries ensure you have enough power. Even when not able to regenerate power, AAA batteries can have enough power. It is portable and quite compact. This means you can carry this radio anywhere. Be it a trip, hike, or travel to any destination, you can just pack this in your bag and go.
Well, that is not it to this portable radio. It has much more in store for you. The 2 light sources in this are always powered. Also, the emergency crank radio can provide light as well. There is a 1W flashlight and 4 LED reading lights. Both of these sources would keep you out of the dark. So, forget getting stranded in the middle of the night at an empty, dark place.
This emergency portable radio would not let that happen and be by your side at all times. You can access the emergency weather forecast and news from NOAA and AM/FM stations.
The package includes 1 solar emergency radio, 1 carabiner. It also has 1 user manual to guide you. The dimensions of this emergency portable radio are 6.2 x 2.9 x 2.1 inches.
Gift this amazing device to your loved ones to keep them away and safe from danger in an emergency. This is a must-have in your emergency kit.

September 27, 2023 2:09 pm

Amazon.com
Last update was on: September 27, 2023 2:09 pm