10 Best Tesla Model 3 Accessories for Styling up your Model 3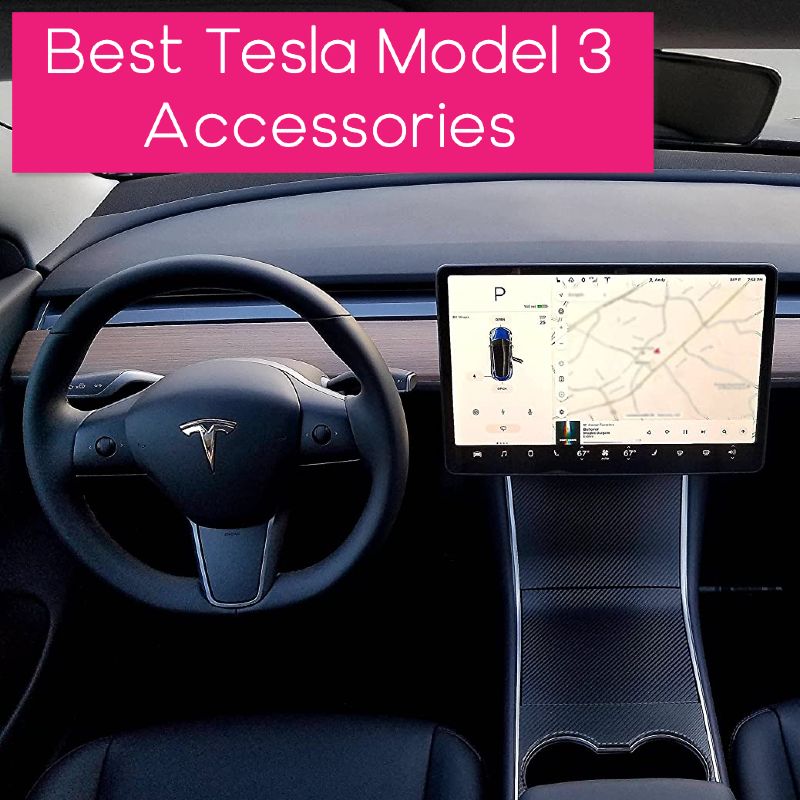 Tesla Model 3 is one of the best luxury cars in the world and owning one is one's dream come true. Getting yourself a Tesla is just a beginning. There are tons of accessories out there for your tesla model 3 to show off. Yes, Tesla is pretty awesome and comes fairly equipped with even the minute luxury element possible. But, you can and you should get yourselves some cool accessories to play the crowd. Thanks to its popularity, private manufactures have made a dozen of the best aftermarket accessories for Model 3. These add a touch of aesthetics to your ride and aids the owners to improve the quality of your drive.
We have made a list of some of the best Tesla Model 3 must-have accessories for you to consider if you've just got your car. It is also useful for those who are having an eye on the vehicle. So yeah take a tour and make sure you get them now.
TapTes Tesla Model 3 Wireless Charger
The TapTes wireless charger's pretty stylish. Its made for the Tesla Model 3 and suits well with its aesthetics. Its got a pretty awesome matte finish and fine charging pads to keep your smartphones intact. The charger fits right on to your Tesla's center console. This Tesla 3 accessory features dual ports for wireless charging with Qi-enabled smartphones. You can keep phones on either side of the pad to get it charged. There is a normal USB output that can charge any of your non-Qi enabled smartphones with ease.
The Taptes wireless charger can deliver 10-watt output from each pad. The best part is it is quite easy to install. There inst any need for wiring or stripping cables. All you need to do is remove the original console and plug the USB Cables into the port and you're on business.

Last update was on: December 6, 2023 1:33 pm
3D MAXPider floor Mats
This cool Tesla 3 floor mats worth giving a try. This set of floor liners come with 3 D scanned dimensions to match your Tesla 3. These all-weather floor liners are the revolutionary interior protection for your Tesla. Thanks to its layered construction, you can be sure of the amount of protection you get for your interiors. The soft durable material makes your car interiors shine up bright.
It gives you an even luxurious look at what Tesla already has. The floor liner's got anti-skid backing to reduce movement you get in or get out of the car. It is waterproof and comes with complete floor coverage. There are elevated edges to trap spills and other dirt from going under. The easy to remove and easy to clean material makes it one of the best Tesla Model 3 accessories to get this time.

Last update was on: December 6, 2023 1:33 pm
EV Wraps Tesla Model 3 Console Wrap
The Centre console wrap is the best way to eliminate smudges and scratches from the console. The EV Wraps Console Wrap comes with a Carbon fiber material that gives your car a luxurious and sporty interior. It is of high-quality 3M material. Hence, there is no chance for any scratches and fingerprints to exist anymore.
It is easy to install compared to other console kits in the market. You can install them all by yourself within no time. You do not need to use any razor blades to cut off edges anymore as it comes with a squeegee.  By far, these floor liners are designed to last years and provide a simple but elegant look that is excellent for your Tesla 3.

Last update was on: December 6, 2023 1:33 pm
JKCover Console Tray Organiser
Getting yourself a tray organizer makes it easy to access things within your car console. The JKCover Console tray organizer comes with durable ABS plastics and matches the look of your Tesla 3. You can keep a lot of essential stuff in the tray and that too within a hand's reach. This flocked tray is for the front console.
It won't affect the capacity of the ower part nor the opening or closing of the upper console cover. If you are looking to get a good console tray, considering this would do the trick as others are a bit clumsy when it comes to fitting. It is one of the coolest Tesla 3 accessories to try if you're planning to upgrade the interior of your car.

Last update was on: December 6, 2023 1:33 pm
K Centre Screen Protector
Tesla's center screen is a true marvel when it comes to entertainment and infotainment. Protecting that from smudges and scratches can be quite cumbersome at times. This time getting the Sumk Tesla 3 screen protector can do wonders for you. Its made exclusive for your tesla 3 and comes high-quality anti-scratch reinforced glass. You can attach the screen protector all by yourself within the nick of time.
To keep your screen protector dust free and clean, wipe it clean with the microfibre cloth that comes with the package. The Sumk Screenguard is a reinforced glass that's twice as powerful as the normal smartphone screen protectors. It maintains good finger sensitivity to ensure greater touch navigation. It is one of the best screen protectors for those looking to prevent damage to their Model 3 display and to improve the interior aesthetics.

Last update was on: December 6, 2023 1:33 pm
TelsaPuck lifting Jack Pad
The lifting jack pad is a wonderful accessory for your Telsa 3. It is a rubberized jack pad that helps you to protect your car's exterior from scratches from using the car jack. You can use these lifting pucks to ensure proper lifting of your Tesla and to avoid any potential battery damage.
It features a hard vulcanized rubber material to ensure proper lifting mechanism. Many of the other pucks out there do not have protection or rubber washers. This, in turn, cause other problems like the puck not fitting well. TeslaPuck offers them in a pack of 4. They are purpose-built and works like a charm whenever you need them. You get a nice handy pouch to store and keep these pads safe after use.

Last update was on: December 6, 2023 1:33 pm
Modern Spare Tyre Kit
What's handier than a tire kit when you are on the roads? We have got the Modern Spare tire kit that's exclusive for your Tesla Model 3. It is one of the most essential Tesla 3 accessories that you should have in your vehicle every time. The kit you see here is a heavy-duty complete tire spare kit with all necessary bolts, car jacks and even an allow wheel.
The aluminum alloy wheel is lighter and more capable than its steel counterpart. To make the storage and transport part easy you get a custom carrying case that is pretty durable and strong. You also get a custom 3000LB scissor jack that uses a ratcheting mechanism to give you the required leverage. A thing to keep in mind is that this Tesla Model 3 Accessories kit is for the Model that rolled out during '17 to '20.

Last update was on: December 6, 2023 1:33 pm
Autown Tyre Repair kit
There is nothing worse than being stranded on the side of the highway and having to wait for help. That's when the Autown Tire Repair Kit comes to the rescue. This Tesla 3 tire repair kit comes with all the necessary tools and things that come handy when you are stuck on the roads. It is a compact repair set that has everything you need to repair tubeless tires on your own.
The kit has a collection of strong and durable tools that comes handy in every situation. You get good quality pliers, a pair of gloves, and all other rivets and bolts to make your work hassle-free. You get all these safe within a durable toolbox. It is by far the most organized repair kit with plenty of repair plugs.

Last update was on: December 6, 2023 1:33 pm
JKcover Centre Console Armrest Organiser
This cool Tesla 3 accessory is a useful storage option to add to your new vehicle. It is a pretty good storage organizer cum armrest that keeps essential items safe and secure. It works as a spot to hide items that you do not want others to get noticed. This cool Tesla 3 accessory comes with a translucent texture. It stays put under your armrest with things inside. As long as the organizers under the armrest there's no sign of your co-passengers getting notice. You can install the organizer all by yourself and without any need for double-sided tapes. The tray itself is easy to install and uninstall. The rubber corners keep it snug and in place. Unlike other organizers, this one here can be popped out and again refitted.

Last update was on: December 6, 2023 1:33 pm
CupHolderHer Cup Holder and Center Console Inserts 
Next one up is custom cup holder cum center console inserts for your Tesla. This 7 pc custom liner accessory from Cupholder Hero comes at a price tag of 10$ online. It can improve your car's interior and give a sporty feel to your co-passengers.
These Rubber liners protect cup holders, door pockets, and consoles from spills, crumbs, scratches, and more. The set comes with durable and high-quality material with 5 color liners. There are spaces on the cupholders that you can't clean properly. This Tesla Model 3 accessory acts like a mat to keep dust and dirt from logging on your cupholders. It is like a floor mat but to keep your consoles and holders and other storages clean. But yet, it would be great if the pad were made a bit longer to cover the entire base and slope.

Last update was on: December 6, 2023 1:33 pm
TOPLight Pedal Cover
Whats is more sporty than getting a custom Pedal pad set for your Tesla Model 3. It is of high-quality aluminum alloy and can slip rubber. The ped cover is nondeforming and the edges od the pedals are quite smooth and not slippery. This Tesla Model 3 accessory is waterproof snd fireproof to a great limit. With this pedal pad, you get an enlarged area of the original pad for more enhanced driving. The installation part is quite easy. You don't need any tools to get this thing in place.
It would be better to soak the pedal covers in hot water for a while before putting it on. You can also use a heat gun to make the rubber a bit soft so that you can get things done with ease. Putting a pedal side LED mood lights can also do wonders for the interiors of your Tesla. Coupling it with these lights can make things aesthetically pleasing and sportier.

Last update was on: December 6, 2023 1:33 pm
Basenod Door Seal Kit
The Basenod Door seal strip is an essential accessory for you to get for your Tesla. It is custom cut rubberized seal strip for the Tesla Model 3. It can reduce the amount of wind and outer noise from entering the cabin. The strips are made of EPDM expandable sponge rubber. It can resist heat and cold and is waterproof and flexible.
It is helpful to enhance the tightness of the door and to ensure no sound penetration. With this, the total cooling effect inside your cabin can be improved. You can feel a reduction in the amount out outside noise entering the cabin. You can install them at the front door panel, A-pillar, B-pillar, and the rear door panel. The adhesive tapes on these strips are amazing. Thanks to this, the installation process is quite easy. Apart from other door seals, the Basenod Door seal strips are lighter and much softer.

Last update was on: December 6, 2023 1:33 pm
Getting the Tesla's
just
a start. What makes it stand out is its versatility and popularity. But like most any car available, it doesn't come with
absolutely
everything you need.
Thanks to these tons of aftermarket accessories rolled out and it is your chance to get the best one for your Telsa Model 3
. Our list of the best Tesla Model 3 accessories is from some of the top-rated manufacturers and auto freaks. All are awesome to the core and getting each of them can make your Tesla pop with style.