10 Best Amazfit Bip Accessories for Improving the Quality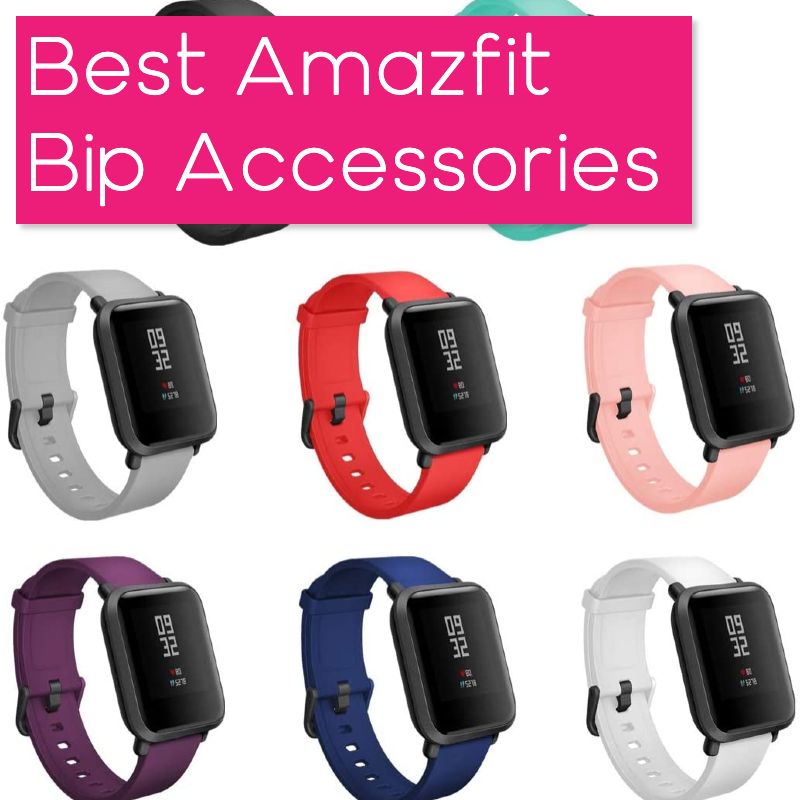 The Amazfit Bip is pretty cool. Getting one helps you to keep track of your things with ease. I know what's going in your mind now, you need some cool Amazfit Bip accessories to completely light up its charm. For that, we've got some of the coolest and the most extravagating accessories that you could get online. Whether its a fashion statement or a utility accessory, these cool add ons are a piece of marvel to have it with your Amazfit Bip. From band straps to protective shells and screen guards, we've got the best list of the accessories you need. So what's the wait, hop on, we'll take you on a tour around.
JIUJOJA Amazfit BIP charger
Getting your hands on a charger that's better than the original Bip charger is the first step to making Amazfit Bip look awsome. In that case, we've got the Jiujoja Amazfit Bip charger for you. It s one of the best AmazFit Bip third-party chargers that includes two charging docks and 4 rubber band straps.
The flat design unlike the inclined one of the old charger made it more convenient to use in homes and offices. You can charge your Bip by just placing it onto the charging dock. It can charge your smartwatch within a nick of time and that too, quicker than what the original charger does. When it comes to durability this charger set does an awesome job as its waterproof.

Last update was on: September 27, 2023 3:30 pm
Teckmico Bandstrap Replacement for Amazfit Bip
The next accessory you should probably consider is a set of cool and colorful band straps. Getting a custom band strap set can give you a good style statement when you step out. The Teckmico's 8pcs band strap set is the perfect option if you're planning to get something eye catchy for your Bip.
It is easy to clip on and remove. There are the quick-release Pins on both sides to give a smooth and quick change of strap. These are durable and water-resistant and comes with high-quality soft silicone material. It is one of the best replaceable band straps you could ever get for this price.

Last update was on: September 27, 2023 3:30 pm
EEweca Protector Case
The next we got is the EEweca Protector case for your Amazfit Bip. It's one of the best Amazfit Bip accessories you should get, in order to protect it from dust and damages. This protector case comes in a pack of 5. You get 5 different protector shades with the delivery.
It provides kinda half-wrapped protection from dust, dirt, and accidental bumps. This cool Amazfit accessory comes with good quality material that's skin-friendly. They are also lightweight and easily attachable. Coupling it with a cool band strap of the same color can make your Bip look quite more attractive from the outside.

Last update was on: September 27, 2023 3:30 pm
Aresh Stainless Steel Band for Amazfit Bip
Doesn't likes those plastic band straps, no worries, cause we have the Aresh Stainless steel band for the Amazfit Bip. It is for those who need to savor that luxury feeling while flaunting your Bip. It comes with a refined stainless steel design that catches a lot of eyes when you hit the town.
The matte metal surface and premium solid design give you the finest fit possible. Apart from the Amazfit Bip, you can use it with the Galaxy Watch series too. You get 3 additional pins and a removable tool to get things done quickly.

Last update was on: September 27, 2023 3:30 pm
AKWOX Screen Protector
The Akwox Screen Protector is one of the good AmazFit Bip accessories available to protect your smartwatch screen from scratches and smudges. It comes with a flexible TPU material that's designed only for the Amazfit smartwatch. The screen protector is thin and gives an HD clarity display on your screen.
It comes with a self-healing technology that takes care of air bubbles of itself. The package includes 6 pcs screen protector, a small cleaning cloth, and a small paper card. You can stick it onto the screen without any special aid. Also, you should leave the accidental air bubbles as it is because it gets eliminated itself after 24 hours.

Last update was on: September 27, 2023 3:30 pm
Lamshaw Amazfit Bip Charger
The Lamshaw Bip Charger is yet another custom charger that's far more efficient than the basic Bip charger. It is a good replacement charger for your Bip as it features a quick charger through micro USB. The Lamshaw Charger comes with a lightweight design and has an inclined stand to dock your Amazfit intact.
A thing to note is that the docking pad is quite sensitive. Any movement could snap the charging. If you're planning to upgrade your charger, then this cool Amazfit Bip accessory could be the right choice.

Last update was on: September 27, 2023 3:30 pm
ECSEM Bandstraps
ECSEM offers a wide range of cool band straps for your smartwatches. It also rolled out its amazing set of band straps for the Amazfit Bip last year. This Amazfit Bip accessory set includes 6 colorful band straps with awesome textures. These are anti-sweat and comes with a silicone coating. The silicone coating makes sure that you never get issues related to sweat or whatsoever.
They are quite unisexual and can be worn by both men and women. You get colored straps from cool red to even hazy black. Pairing them with your Amazfit Bip can turn on your style statement for the night. Whatsmore, you get a lifetime warranty with these cool Amazfit accessories.

Last update was on: September 27, 2023 3:30 pm
AOIROE Leather Band Strap
Remember the times you hit the town with your cool leather watches? Things are getting smart but you would still love to have some of those with your smartwatches right? In that case, we've got here the Aoiroe Amazfit Bip leather band strap for you. It is designed just for your Amazfit Bip and is one of the coolest add on for your smartwatch.
It comes with high-quality genuine leather and has stainless steel clips. The leather is flawless and delicate. You can feel the flexibility and richness once you get that on your hand. You can couple it up with your formals for can add a bit of luster to your office look. It is easy to install and has the necessary tools with complete delivery.

Last update was on: September 27, 2023 3:30 pm
Troyalroom Wrist Watch Canvas Strap for Amazfit Bip
The Troyalroom Canvas Strap comes with a cool look and can give you the best look when you couple it with your Amazfiy Bip. It comes with enough length and enough stretch and feels light and quite durable. The new buckle design in the band strap makes stylish and easy to remove.
There is a good luster within the strap that adds quite a charm to your Amazfit Bip. It is one of the best selling replacement straps on the internet and comes at around $7 or so.

Last update was on: September 27, 2023 3:30 pm
JZK Amazfit Screen Protector Case
The JZK Amazfit Screen Protector Case is a good aid to keep your Bip free of dust and accidental scratches. It comes with a rounded curvature design and provides complete coverage to your screen. The 3D curved edges make it look awesome and eye-catchy when you couple it up with your Amazfit Bip.
It comes with soft TPU plated plastic and protects your screen from potential damages. The case gives excellent touchscreen sensitivity and makes it feel like there is nothing between your fingers and screens. You can use it while you are at the gym or the outdoors as it keeps out dust and dirt to a great extend. It also keeps moisture from logging between the case.

Last update was on: September 27, 2023 3:30 pm
B07RVHQZB5
Despite its competition from the Galaxy series, the Amazfit still holds the best smartwatch crown. Its widespread appeal and software gave it a lot of addons that are stylish and useful. Getting yourself an Amazfit is just the beginning, the real fun starts when you begin to customize it with new cool accessories. We've got the best of the best Amazfit Bip accessories for you to check out today. They are quite reasonable and comes with a lot of advantages for your smartwatch.